Last Updated on April 19, 2022 by Andre
Do you need a pregnancy pillow? Only if you want quality sleep, better pain management for your tummy, hips, and back during your pregnancy term then yes.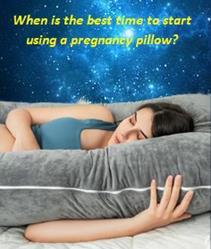 Overview
Finding out the great news that you are pregnant can be a wonderful and exhilarating time, particularly for first-time Mothers to be.
However, there will be many times along the 3 trimesters it won't feel as exciting as the body prepares for your newborn to enter this world.
Along the way you will feel tired, there will be many uncomfortable nights you may not get the proper sleep.
This includes many other issues such as hip, back, and leg pain.
Technically, experts would normally recommend expectant mothers to start using a pregnancy pillow around the 20-week mark.
The reason for this is that is when your belly generally starts to show signs of growth.
However, you are not restricted to waiting to feel better before your tummy grows.
You can start anytime you wish before you get to 20 weeks.
There is nothing wrong to start earlier once you learn the wonderful news you are expecting.
You can even benefit at the start of your pregnancy to get used to the comfort of your own pillow before your tummy starts to grow.
That way you already have your routine in check before those tougher days come along.
As your belly starts to grow and becomes heavier you will feel more tired and may need to rest more during the day.
Because you already started using your pregnancy pillow and got familiar will help those tougher days more manageable.
Disclaimer
I am an affiliate for various programs, and as such should you purchase any products from the links that I provide, I may receive a small commission as a result of the sales at no cost to you.
What is a Pregnancy Pillow?
A pregnancy pillow, also known as a Maternity pillow, is designed to support the Mother's body during the various stages of pregnancy.
Some maternity pillows can be a simple wedge-shaped cushion to help with the belly and back.
While larger pregnancy pillows are full length, covering and offering total support to the whole body.
The full-length pregnancy pillows are the most popular as they help you all in the one go while your body grows during your pregnancy term.
Here the full length will not only give you a comfortable and relaxing sleep but will support your back, tummy.
You can even wrap your leg around the cushion to take off any hip and leg pressure during your pregnancy term.
See the image below to give you an idea of a full-length Pregnancy or Maternity Pillow.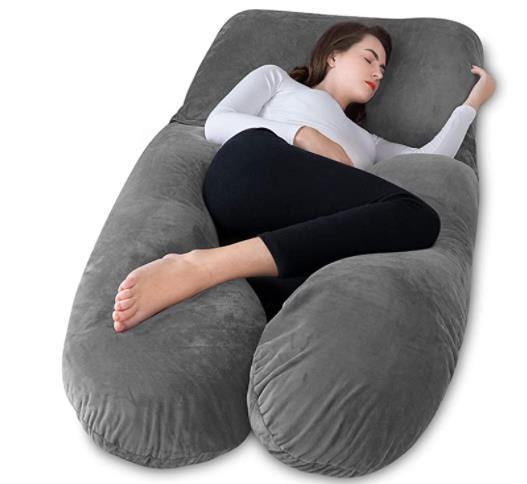 Do You Need a Pregnancy Pillow?
Realistically there's no right or wrong time to start using a pregnancy pillow.
In fact, you don't even have to be pregnant as the health benefits are many.
This is where the pregnancy also known as the maternity pillow can come to the rescue.
You see anyone can suffer from lack of sleep; anyone can have various back issues along with swollen legs and sore hip pain.
You will find using a pregnancy pillow can help to alleviate many such health issues.
If you think about it, as a non-pregnant person it makes sense how the pillow can help the contours of your back more manageable and alleviate the other health issues you may be facing.
16 Benefits of Using a Pregnancy Pillow
Relieve pressure on your tummy when sleeping.
Helps to improve blood circulation throughout your body.
Sleeping on your side help promote better blood circulation while protecting you and your baby.
Supports your belly weight as you sleep.
Improves your quality sleep when needed most especially when pregnant.
Can help to avoid rolling to your back while you sleep.
Perfect for those who toss and turn during the night.
Provide back support to help stop you from rolling over during the night.
Those with Sciatica issue can benefit even if not pregnant.
Can be used after pregnancy to nurse or feed your child.
Portable so you can take it with you on holidays.
Feel like you are being hugged throughout the night (no snoring in your ears).
Machine washable
Pregnancy pillows can be used even if not pregnant.
Placed your legs over the pillow helps to relieve added pressure on your hips.
You can position yourself while reading or watching TV and still get that comfort.
Types of Pregnancy Pillows
There are various types of pregnancy pillows around, some offer support to a particular area while others are in between to the full size that gives total support to the whole body for maximum benefit.
Not just during pregnancy but also after pregnancy as your body is still adjusting to further changes along with now you have the need to breastfeed and nurse your baby.'
The most common types are the Wedge, Body pillow, along with various versions of the Full-length Pregnancy or Maternity pillows, such as the C, E, and U shapes.
So let's cover these basic types and you can read more below on which may be best for you.
Some basic types:
Wedge Pillows:
These are the smallest of pregnancy pillows, however, that can offer support to certain specific areas such as the belly and give some back support, between your legs, but not all at the same time unless you buy more.
They can and do a great job for its size but as stated unless you buy two you will find the need to switch the wedge as your turn.
This means you will wake up more due to picking it up and readjusting to the other side before you go back to sleep.
You will find that if you don't have more for other areas, then rolling on your back will occur.
Not to mention as your belly gets larger the wedge shape may become a bit more uncomfortable.
They are great during the early stages but can become uncomfortable or the least to give you the full support you need later.
Still great to use after birth for supporting your back and as it is small in size, perfect to take along with you on holidays or even perhaps as back support while traveling.
Body Pillows:
Body pillows are a step-up from the Wedge Pillow as they offer that extra length to help support the hip as you can place your leg over the body pillow during sleep.
You can easily use this to cushion your belly.
You may need to have something behind your back to not only give support but also to stop rolling over onto your back.
As it is only one piece more are needed to give again that full support to your belly and back at the same time.
Full-Length Pregnancy Pillows
Here we come to the best and more beneficial Pregnancy Pillows.
You will find so much support and will keep you from rolling over onto your back.
This is perfect for those who are tosses and turners along with those who need quality sleep and feel the most comfortable either during, after pregnancy.
That can also be so beneficial even for those who are not pregnant especially if you have sleeping issues or back issues like Sciatica.
These come in three major types.
C Shaped Pregnancy Pillows: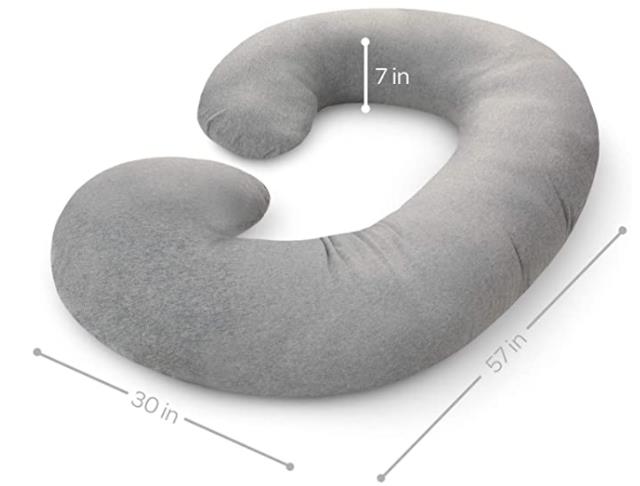 As you can see from the measurements this provides much support around the body.
The ends of the C shape can be hooked up to support your head while the bottom area can easily be placed between your legs to take the pressure off your hips.
In the meantime, you have the added back support while you enjoy a peaceful sleep.
This can easily be done the other way as the material is soft and will support the belly during sleep.
A most comfortable way to sleep while feeling the security and comfort as you rest and relax.
This can also help you to tuck or place your legs over either side to offer to relieve any hips pain as well.
Think of this as your spooning while you sleep comfortably in peace.
E Shape Pregnancy Pillows:
Similar to the C Shape, The E Shape is a touch longer butr also comes with a detachable wedge pillow that you can use seperately or together as one piece for overall comfort for your belly.
The only hassle is with the wedge shape.
Should you wish to change sides the wedge may need to be separated and re-adjusted to get the same relief.
You could rather than having it attached, keep it separated, then when you change sides just tuck it into a more comfortable position.
U Shape Pregnancy Pillows:
Probably the most common and preferred type of Pregnancy Pillow on the market.
This U Shape will give you total support from all sides, the back, belly, head, arms, and legs.
All while you feel snug and secure that will help you sleep better and know you are been looked after with this U Shaped Pregnancy Pillow.
This can be the perfect type for those to toss and turn in bed as you will be able to stay put in one position and feel totally comfortable and find a longer and deeper sleep as a result.
For those who are not pregnant, this is perfect for you.
No more back pains, no more hip issues. For those with sciatica issues or other back issues, you have full-body support when you need it most.
Conclusion:
As you can see there are many different types of pregnancy or maternity pillows which all can serve either an individual purpose or cover the whole body to total comfort and security.
Do take time to go over each version and find which may suit your needs along with reading the thousands of reviews each has.
some may just prefer the Wedge type while others may be happy with the one-piece body pillow.
Others may prefer the various versions of the full-body pregnancy pillows.
This way as you check them out you will then know which Pregnancy pillow is best for you.
Remember you don't have to wait for your belly to get larger to benefit from a pregnancy pillow.
Rely on your own intuition on when is the best time to start using a pregnancy pillow and if you can get it earlier.
Then the easier you will become accustomed to it.
Also, take note of the fact how much space you may need in bed and some of the full-length versions can take some space on the bed.
Just make sure you are the one most comfortable your partner will get used to it, besides they probably sleep on the edge anyway so for most it won't make a difference.
They can also snuggle up to you and get some of the added benefits of the pillow themselves as well.
Just make sure they are not too comfortable otherwise you may find you need another one for yourself as they will most likely try to hog it for themselves.